Figure: The competitor toss a large tapered pole called a "caber".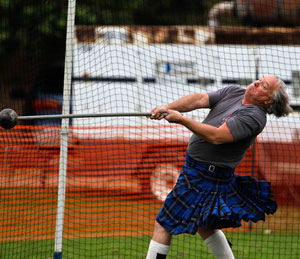 Figure: demonstration of Scottish hammer throwing
Website: Scottish Heavy Athletics - www.scottishheavyathletics.com
Figure: Scottish Backhold is a style of folk wrestling. The wrestlers grip each other around the waist at the back, with the right hand under the opponent's left arm and the chin resting on the opposite right shoulder.
website:Federation International des Luttes Celtiqus (FILC) - www.lusshighlandgames.co.uk
            The Scottish wrestling bond - www.wrestle.co.uk
Figure: Shinty, a team game played with sticks and ball; mainly popular in the Scottish Highlands
website: The Camanachd Association - www.shinty.com
demonstration: www.youtube.com/user/camanachdassociation